Ergonomics
They are a great tool for group work. Produced in different sizes, they fit perfectly
in any educational environment layout, in addition to being stackable, facilitating the organization and cleaning of the environment. Since its conception, Metadil has been concerned with the ergonomics of the product, aiming at better resistance and comfort, preventing injuries and pain that could compromise the student's academic performance.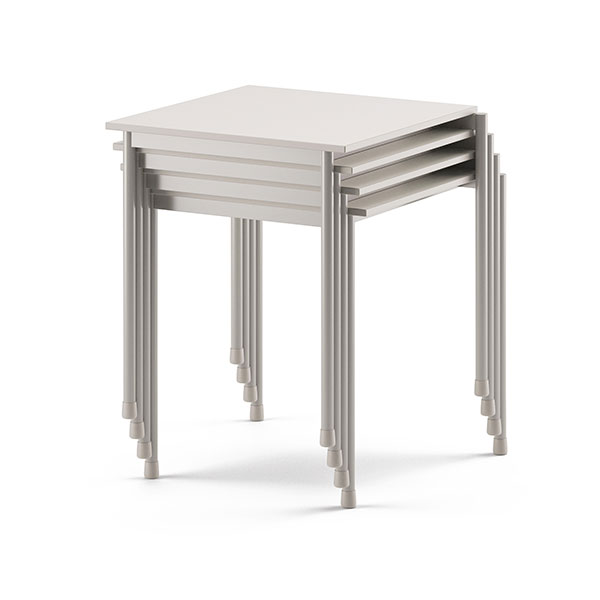 Top
Top with melamine finish on the bottom and melamine laminate on the top. It is fixed to the table frame with metal bushings and screws that prevent it from coming loose.
Edges
The edges have rounded corners providing beauty, protection and strength, in addition to meeting safety standards.
Stackable
The tables enable stacking, facilitating the process of organizing and cleaning the environment.
Fixed tip or wheel
Stackable tables are produced with fixed tips or optionally with wheels, facilitating movement.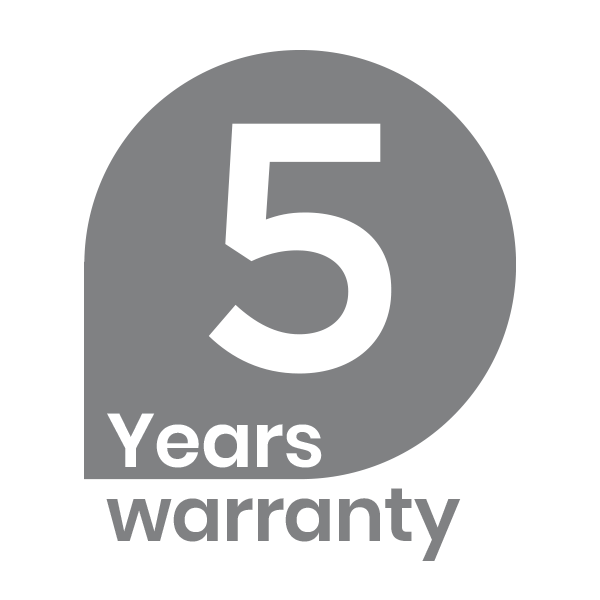 5 years for manufacturing defects.
Permanent supply of parts.
Square
| | |
| --- | --- |
| Model | Top (L x P) |
| 70095 |  60 x 60 cm |
| 70096 | 77 x 77 cm |
| 70097 | 90 x 90 cm |
Square with wheels
| | |
| --- | --- |
| Model | Top (L x P) |
| 70095R |  60 x 60 cm |
| 70096R | 77 x 77 cm |
| 70097R | 90 x 90 cm |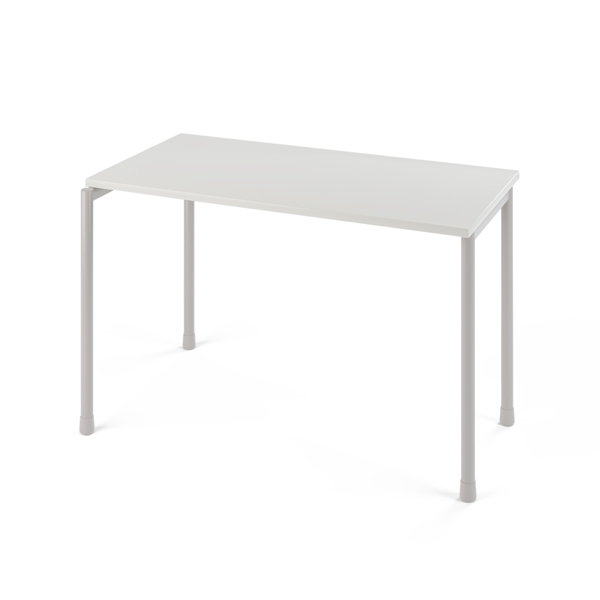 Rectangular
| | |
| --- | --- |
| Model | Top (L x P) |
| 70091 |  90 x 60 cm |
| 70092 | 120 x 60 cm |
| 70093 | 150 x 60 cm |
| 70094 | 180 x 60 cm |
Rectangular with wheels
| | |
| --- | --- |
| Model | Top (L x P) |
| 70091R |  90 x 60 cm |
| 70092R | 120 x 60 cm |
| 70093R | 150 x 60 cm |
| 70094R | 180 x 60 cm |
| | | | |
| --- | --- | --- | --- |
| Hights | HT hight top (mm) | Stature (m) | Age group |
| .7 | 820 | 1,74 – 2,00+ | Height designed for people of exceptionally tall stature. |
| .6 | 760 | 1,59 – 1,88 | Over 14 years old |
| .5 | 710 | 1,46 – 1,76 | 11 to 13 years old |
| .4 | 640 | 1,33 – 1,59 | 8 to 10years old |
| .3 | 590 | 1,14 – 1,42 | 6 to 7 years old |
| .2 | 530 | 1,08 – 1,21 | 4 to 5 years old |
| .1 | 460 | 0,93 – 1,16 | 3 years old |
| .0 | 400 | 0,80 – 0,95 | 0 to 2 years old |